By Maike Mocikat Wednesday April 6th, 2016
Do you remember the times we paid for each SMS we sent? You had to think really hard before sending. Not anymore, now that Whatsapp exists. Nowadays you can hardly manage your day without the app.
With millions of users it is one of the most consolidated social networks with the most potential.
The most compromising conversations happen on this app. Secrets are disclosed, revealing photos are sent, jokes that you would never publish on Twitter under your name are being told. Everything is PRIVATE on Whatsapp. That's the key.
All depends on how much you trust the person/s on the receiving end of the message. And up until now it also depended a little bit on whether the CIA, Interpol or the Supreme Court decided to dig into your Whatsapp history.
Luckily, today we woke up to the news that Whatsapp has incorporated an "end to end" encryption in its latest update.
This means that our conversions are 100% safe. Our messages will only be read (or listened to) by ourselves and our conversational partner.
Bye bye to any leaked messages.
And how can I make my conversations more private?
Now with the new update, when you send a message you will see a little yellow textbox that informs you that your conversations with this contact can be private and encrypted.

When you click on this text box you will go on to the steps to authorize more security. A code will appear that you have to scan.
Once you accept the service you will see another textbox with a message informing you that your calls and messages are now safer.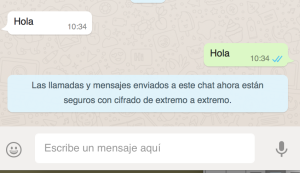 And that's it, folks. From now on your conversations with this contact will be 100% private. Nobody will be able to spy on you.
You can rest easy knowing that most embarrassing photos will never be public. Unless the person on the receiving end wants to play a joke on you.