By Maike Mocikat Friday March 18th, 2016
It just takes a couple of minutes on the subway to realize a common pattern: all passengers are looking at their cell phone (or similar device).
We already know what they're doing, reading or looking at: social networks. And what about those who are posing for a selfiemaking funny or weird faces? Snapchat, my friends!
To socialize via Instagram, Facebook, Twitter, Youtube, etc. forms a part of an ordinary day. In fact, how many of us wake up in the morning and the first thing we do is to check our cell phone? Well then, we want you to add Snapchat to your list.
When? In 2010, American students launched this app not knowing how much this app would revolutionize the way we share photos.
Where? You can download it for free for Android and iOS. But,you have to be over eleven years of age.
How? Snapchat is very easy to use, very intuitive. Once you take the photo, you can choose how long do you want it to be visible to other users ( between 1 and 10 seconds). If you want you can write on the screen or add an emoji.
The X of the top left corner will allow you to replace the photo and go back to take another one. On the right side we have the emojis, the font size( hello in White) and pen similar to the one in the Window's program 'Paint' ( hello in red).
The number from the lower left corner indicates for how many seconds the photo will be visible (4seconds), the arrow facing down allows you to download the photo on your own cell phone and the square to add the picture to your story.
Yes! Because Snapchat has history! You can add as many photos you want and it will be visible for your contacts as many times as they want during 24h.
And we come to the end of the mystery…The arrow on the bottom right corner. It allows you to send the photo to the contacts that you choose.
Why? Because the most entertaining selfies and weird faces will not be there forever. In fact, these passengers that you're used to see at the metro sticking out their tongues and making duckfaces are using the different filters that Snapchat offers. You only have to put your face in the middle of the screen and push the bottom and it will show you a carrousel the different faces that you can choose from.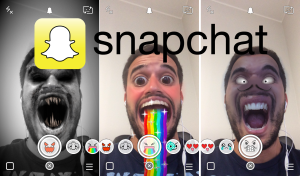 So…What are you waiting for to download?